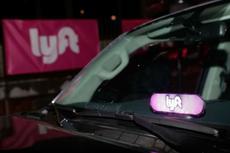 The company hasn't determined how many shares will be offered or how far the price will range, but officials said that they have submitted a draft registration statement to the SEC relating to the IPO. More details will be made available after the SEC completes its review.
The company was last valued at $15 billion, but that figure could increase dramatically under a public offering.
Lyft began working with JPMorgan Chase & Co, Credit Suisse, and Jefferies as underwriters for the deal in October. The firms have pegged the company's value at between $18 billion to $30 billion, sources familiar with the matter told Bloomberg.
continue reading